Accounting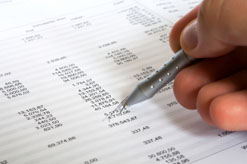 We provide a full range of services for bookkeeping, including general ledger maintenance, trial balance, bank statement reconciliation, receivables and payables management and analysis. We also provide data retrieval through Quickbooks, Quicken and other personal financial software.
Financial Statement Compilation
We provide monthly, quarterly, or annual financial statements, which can serve your business in a variety of way including loan qualification, business acquisitions, and contruction licensing. In addition, financial statements give a snapshot of your business, allowing you to dtermine your assets, liablities, as well as your net income and comparison with prior years. Reviewing financial statements is a great way to keep on top of your business and construing a plan to cut expenses and increase revenue.
Computerized Accounting Function
With experience in several accounting packages for the small business, we can help you make the right decision about software and get you up and running.
QuickBooks® Setup
If you select us for accounting and tax services we will setup your finances on QuickBooks for free. This offer includes intial setup and quarterly review of QuickBooks file.